La Casa del Señor Ramdeen
 "Learn how to see.
Realize that everything connects to everything else."
~Leonardo da Vinci
In 2017, on a field trip to North Manzanilla, Aaron made a delightful discovery. At that time, I was working as a Teaching Assistant (TA) with Aaron, who was a lab demonstrator in the same department at Life Sciences, UWI. I was the TA for the course BIOL 2262: Evolution and Biosystematics. This course included a practical field lab to study "Fossils" in the cliff-face at North Manzanilla. The course lecturer requested I get a male demonstrator to accompany us on the Saturday trip, so I invited Aaron to tag along. All of the demonstrators, along with myself occupied different maxi-taxis, each in charge of our separate student groups.
Personally, I don't remember the drive to North Manzanilla, but I definitely can never forget the return trip. Professor Starr, who was the former lecturer of the course when I was in undergrad accompanied us all to lend his expertise and guidance for the lab. When we were ready to return to UWI after the field work, my duty as the TA was to ensure all students were accounted for and safely aboard their respective maxi-taxis. Professor Starr, who is quite an interesting character all by himself occupied the front seat of the first maxi-taxi. Being hard pressed for time to return to UWI, he signalled his driver to pull off while I was in the middle of accounting for each student. Naturally when the lead maxi leaves, "Simon says" everyone else must follow! So all the automatic doors began closing one after the other and started following the leader of the pack. At that point I was left no choice but to hurriedly board the last maxi lest I was left stranded. I marched powerlessly to the back of the maxi and sat down fuming mad. I was tired, hot and hungry but unfortunately, my lunch and cell phone was in my bag on one of the other maxis. As I sat ruminating on giving that impatient old man a serious piece of my mind, two of the students who sat in front of me turned around and asked,
"Miss, do you want some lunch? We packed sandwiches."
Distracted from my grievance about nearly being left behind, I gladly accepted. The guy then whipped out a cooler with chilled, canned coca cola. The girl said,
"And Miss, when you're done, we have snacks too!"
Boy, I never felt so happy. The situation took a full 180 degree turn. So on the drive back, instead of rehearsing my gripe over the infamous Prof. Starr, I kicked off my shoes, sprawled out over the three empty seats at the back of the maxi, merrily munched my sandwich, sipped my ice-cold cola, and enjoyed the drive. I was on cloud-nine. For a bliss-full hour or so, I was without a care in the world. And no one bothered me. (Remember I didn't have my phone on me!).
Aaron's experience was different. During the trip to North Manzanilla, while he was preparing his students for the upcoming lab, he pointed out a beautiful, colonial-styled house to his students. He saw it perched atop a mini hill, as the maxi taxi breezed through the village of Sangre Chiquito, which is located along the Eastern Main Road between Sangre Grande and Manzanilla. He observed that this house was well cared for, and indicated that whoever lived there did a great job of maintaining its original architectural integrity. Aaron wanted his students to appreciate the historical significance of that house. To his surprise, one of his students, Leisha Ramdeen stated that the house belongs to her grandfather, Mr. Ramdeen. After she gave him some insight into a few of the stories her grandfather shared with her, Aaron tried to convince her to write about them. But he got a better bargain: Leisha generously invited us to speak with her grandfather so we can instead write about her grandfather's history, and the house.
Aaron and I finally took the road trip in October last year to visit Mr. Ramdeen. It was only then I found out that I was Leisha's past TA. So here was my connection to the family. Hopefully she gave me good reviews!
I honestly didn't know what to expect towards the end of our journey. We left home early on a Saturday morning so there were hardly any cars on the road. When we entered Sangre Chiquito which is a few miles beyond Sangre Grande, passing each house felt like it was separated by an eternity of forested vegetation. On the last bend after passing what was supposed to be the "closest neighbour" to Leisha's grandfather, the house came into view.
It was nothing like I imagined. This magnificent, mustard yellow structure stood like a tall, proud soldier commanding attention against the backdrop of the deep, blue sky. That last mile felt like it had a portal that transported us back into historical times.
Meeting Leisha's grandfather, Mr. Ramdeen, and also her husband, and their adorable son for the first time felt like we were now a part of the family's history. From serving us doubles for breakfast with a cold Solo Apple J, to ox-tail soup for lunch, they made us feel most welcomed at their home. My students seem to have developed a habit of feeding me! Aaron and I both appreciated Leisha and her family's warm hospitality. They made us feel like family!
So who is Mr. Ramdeen and how did he acquire such a prized historical possession? Like any good story, I'll start from the beginning.
Mr. Ramdeen's Origin

Mr. Ramdeen narrated the tracing of his family's history by Shamshu Deen, an Indo-Trinidadian genealogist and researcher who has helped hundreds of families trace their family roots in India.
Mr. Ramdeen's great grandfather, Madary (Mandaree) was 18 years old when he arrived in Trinidad from India in 1858, as an indentured labourer aboard the ship, Edith Moore. There was a young Muslim woman, Oozeerun, aged 20 who also came as an indentured worker. Both were assigned to the Mon Plaisir Estate in Cunupia, the sugar-cane area.
According to Mr. Ramdeen, "I don't know if they got married. In those days, Muslims and Hindus didn't "pull." No Hindu priest or Muslim priest would marry them. Anyway, they were together and they had altogether four boys and two girls."
So four sons and one daughter were born in Trinidad before the couple returned to India about two decades later in 1880, after which their last child, Parbattea was born. After the death of Madary, Oozeerun returned to Trinidad from Calcutta, India in 1882 aboard the Scottish Admiral. She returned with three sons: Bhowanee Dial, Purbho Dial, Sew Dial and two daughters: Bhugmothea and Parbattea. Sew Dial was Mr. Ramdeen's grandfather.
However, Mr. Ramdeen believes a slightly, different version of his family's history.
"Where I disagree with Shamshu Deen is he said my grandfather (Sew Dial) and his brothers were born in Trinidad and worked as indentured labourers. Then they came back to Trinidad from India and settled. That to me seemed impossible. My grandfather, besides owning these 15 acres at Sangre Chiquito, owned 50 acres in Plum Road (going up to Plum Mitan), and 75 acres in Biche. Similarly, all his brothers had large estates. Indentured labourers were not paid handsomely. Where did they get all that money to buy land? They couldn't have saved money from their indentureship to buy such extensive estates. So I believe that my grandfather and his brothers came directly from India to check out the prospects in Trinidad. They came with money. That is the story that I knew before Shamshu Deen's research."
I guess that's the downside to history; there are many, varied versions.
It was Mr. Ramdeen's grandfather, Sew Dial who built the house in which Mr. Ramdeen currently resides. Sew Dial's brothers: Bhowanee Dial and Purbho Dial settled as neighbours, while the eldest son Deby Dial settled in Plum Road.
So how come Mr. Ramdeen does not carry the Dial family name?
"Somewhere along the line, you know every family has their own disputes or falling out. I believe my father had a falling out with the other Dials and so he decided to change his name. That is how we got the name Ramdeen."
The village of Sangre Chiquito has a century old history, dating back to when Spanish settlers inhabited the area. Sangre Chiquito, which means "small blood" in Spanish was named after a battle that took place. "The Caribs massacred some of the Spanish priests in San Rafael, then ran away to Sangre Grande which means "big blood". There they were cornered by the Spanish and a lot were killed. The few who escaped, came to this village (Sangre Chiquito) and were recaptured and killed." This was a smaller blood-shed.
During that era, several estates were established where crops such as cocoa, coffee, banana and citrus were grown. The Santa Estella Estate, also called the "Pacheco Estate" was owned by Don Pacheco, a Venezuelan General, who was the brother-in-law of the former Venezuelan President Gomez.
"Pacheco was a Spanish General from Venezuela. There was some revolution going on; the governor was being overthrown. To get away from jail, they took as much money in gold or whatever, and came to Trinidad sometime after 1923, and bought this whole estate. All the village from the bridge down by the temple to the next bridge was known as the Santa Estella Estate- the largest cocoa estate in Trinidad."
"The only people who owned private lands were my grandfather and his brothers. When Pacheco came here, this place was already built in 1923. This is the last one of the three houses built by the Dyal brothers."
Mr. Ramdeen, pointing to Pacheco House said,
"Pacheco built that house. I can remember seeing him. He used to walk outside where there was a big pasture in the back with a woman, whom we used to call "the keeper". Growing up I never realised what "the keeper" meant but she was really his "outside wife". His real wife lived in a house at St. Clair, but "the keeper" used to stay here."
Pacheco House is a prominent historical landmark in Sangre Chiquito, and the largest dwelling house in the Eastern Counties. This house with the black, slate roof is now owned by Peter Knaggs' family.
"Eventually when Pacheco died, his daughter got married to Peter Knaggs. He was a prominent business man in Port-of-Spain. They had the estate, then they started selling it out. They retained only that piece there (Mr. Ramdeen points to the house). When Peter Knaggs died, his two sons still own the property."
However, Mr. Ramdeen's house should not be historically overlooked. It is the neighbour to Pacheco House, located on the same side of the Eastern Main Road, but with a more cheerful and welcoming exterior. Mr. Ramdeen's father (Sew Dial's son) was the manager of Pacheco Estate for a number of years.
Mr. Ramdeen, pointing to the opposite side of the main road from Pacheco House informed,
"There was the manager's office, a house for the overseer, and stables for the animals, like cows and mules to transport the cocoa. The whole estate was a network of tracks."
He then pointed to various locations showing where the barracks were that housed the workers of the estate.
"Very early in the morning, one of the workers used to blow a large conch shell. This was the signal for the workers to be ready to report for work. Then he would blow it again and everyone would assemble "in the yard" (outside the manager's office) and they would get their assignments for the day."
Mr. Ramdeen, who recently celebrated his 82nd birthday appears to be in competition with the lifespan of his 95-year-old home. However, longevity appears to be strong in the family's genes.
"My eldest sister, she died about three to four years ago at 94; she was married from here at 13 years. My uncle died three years ago. He died at 102."
Mr. Ramdeen continues to preserve his house as close as possible to its original state. This house, which has passed through three generations: from grandfather, to father, then son, shows that it is capable of withstanding the test of time. The wooden walls of the gallery are 100% original.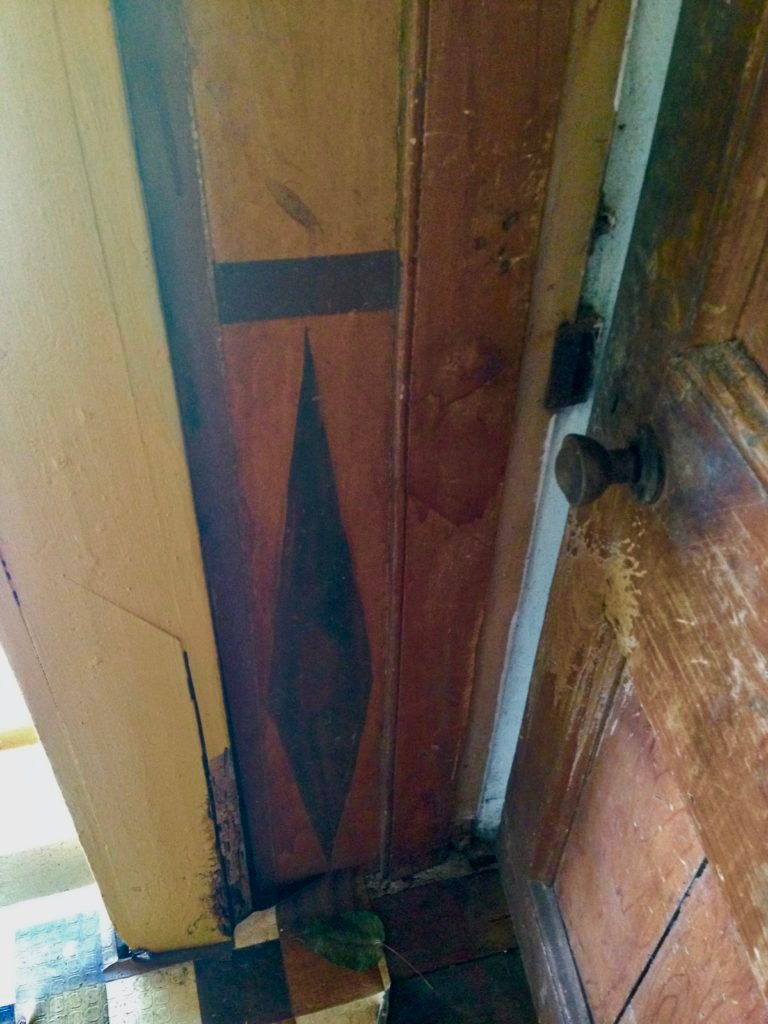 And the doors are made of wood from the Crappo trees. I found this mind-blowing. Nowadays, you're lucky if your home does not attract termites!


All the intricate fretwork bordering the eaves of the entrance to his home are all hand-crafted. In those times, there was no machinery to help with carpentry. Yet everything is so precise and symmetrical. This definitely took a lot of patience. Even the door knob, made from mahogany felt heavy and robust.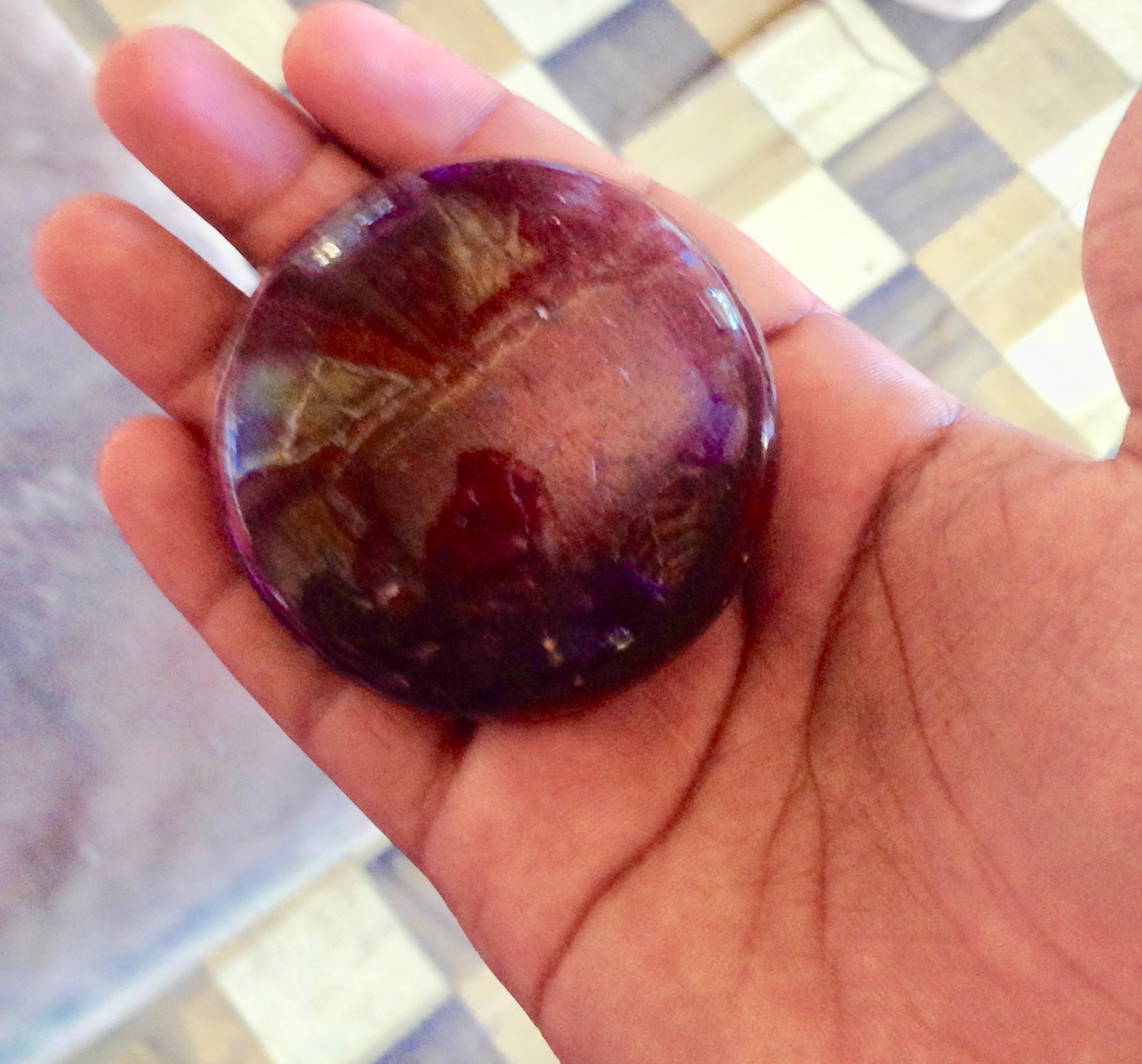 "That is Mahogany!"
The attic where cocoa was dried.
Mr. Ramdeen has high hopes that his children preserve the treasure he inherited.
"My daughter knows that it is my wish to preserve this house."
Of course, there is more to Mr. Ramdeen than just his ties to this magnificent house. In Part 2: Green Days by Ramdeen, you'll learn about many of his experiences growing up, and how life was back then through his eyes.
So remember, the next time you're driving along the Eastern Main Road heading to Manzanilla for that beach lime, take a moment to appreciate this historical treasure. Look out for Mr. Ramdeen's House.
---
---