Addicted to Progress
"A writer needs a pen, an artist needs a brush, but a film-maker needs an army."
~Orson Welles (American actor & film-maker)
The art of film-making is often fraught with challenges, especially in a country that doesn't have a film infrastructure on par with say, Hollywood. Succeeding requires the collaborative efforts of the director, crew, cast and other interested parties. Mooleedhar highlighted the struggles about the messy side of film-making; the business side.
"We spent one full year trying to raise financing for the film. This was no easy task. The producer Christian and myself stopped everything else we were doing, just to secure private funding from banks to phone companies. We probably had about 500 meetings, if so little bit. This was a full time job. At the end of the year, we had funds close to what could start something going."
Filming does not occur in sequential order. It starts with the big-budget scenes first, working its way down. That's why good planning is important.
"We aimed to spend the money in the first 2-3 weeks on all the big scenes. In the last week, we planned to shoot the smaller scenes, like the walking scenes, with a smaller crew."
"Normally for the first 2 weeks of production, there are about 50-60 people on set. The day of filming the school dance was our biggest and most expensive. This included 150 people, extras, location, lights, and a big crew. You're burning money on the big days."
However, as the funds started to dwindle, Mooleedhar and his team were compelled to find simple ways to cut costs. This prompted a stronger need to only include more important details in the movie.
"We selected a woman from Tobago to act as Mr. Gidharee's wife. Including her in the film meant paying transportation and accommodation fees. We decided to just mention her instead of casting her in the movie; that was one less actor to pay. Things we didn't need were gone, and obviously it changes the movie itself."
Authenticity also comes at a price. In the novel, a cashew tree laden with ripe, juicy fruit was symbolic. However, Mooleedhar found it difficult to include such a tree within the film that wasn't surrounded by power lines or modern architecture.
"I looked all over Trinidad and Tobago for a damn cashew tree!"
He was advised that anything modern in the scene could easily be removed by a technique called Rotoscoping in the post-production phase. But he disregarded this option.
"We didn't have that option in the budget to pay an animator to remove the power lines, etc."
Although Mooleedhar had many people searching the country for a cashew tree, none of the findings made the cut. Instead, he and his crew decided to replace the cashew tree scene with a mango tree, that was situated atop a hill somewhere in Arima.
Ingenuity is limitless. When the movie was filmed, cocoa was not in season, so the art department crew "made" the cocoa and put it on the trees.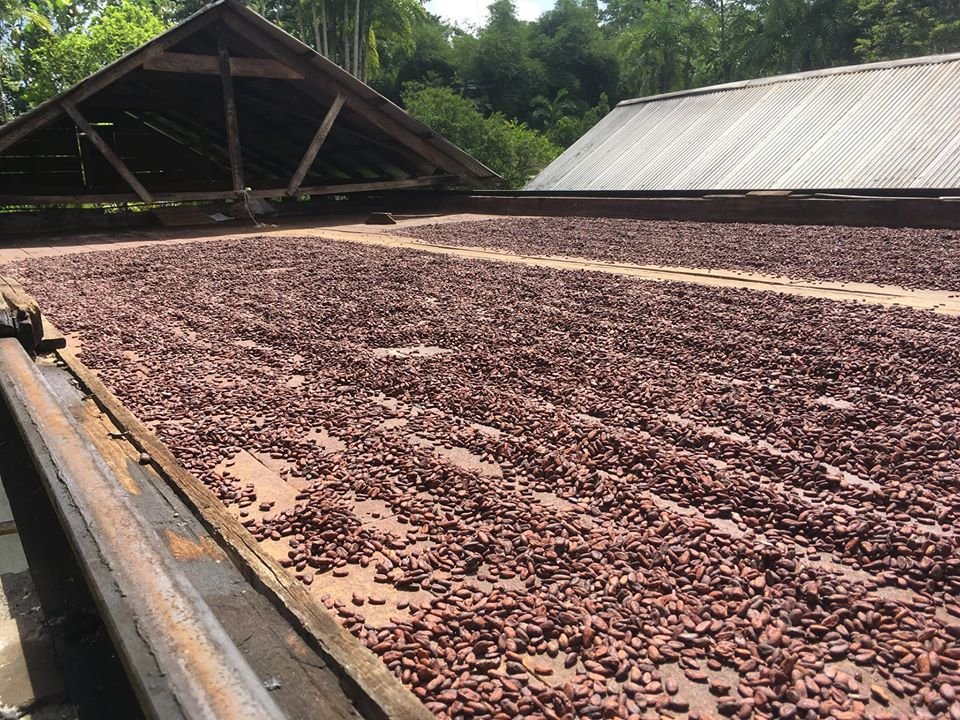 "If you watch the scene with all the cocoa shots, that's not real cocoa!
Compromise is a key part of the effort too; it's always a give and take. During the decision making process for choosing filming locations, Mooleedhar secured the site he wanted.
"I absolutely wanted the house that Shell lives in; that's Pa Lammy's house. Because I got that one, I compromised on the other location, which was Mr. Gidharee's house."

"Filming a movie set in 1952 makes you realise how much of Trinidad is "brand new". You're looking for things and you just can't find it. It's difficult to find old houses. The house Shell lives at in the film was an old cocoa house."
Mooleedhar expressed his chagrin at how many people view the film-making process.
"People hear the term "movie" and automatically think "money," so they want to charge for everything. If only they knew what was going on…how you're barely holding on to make this film. Yes, it's about business, but at the same time you need in-kind; you need people to help."
When the last of the funds were near exhausted, Mooleedhar and his team further engaged their resourcefulness. After much searching, they stumbled upon the perfect location for filming Mr. Gidharee's house while driving through Sangre Grande. The house belongs to a Mr. Ramdeen, who graciously permitted the crew to film the end scene, in-kind.
"When it came to Mr. Gidharee's house, we were at a point where we were ending filming, so we needed to choose something that was easily accessible. We didn't have a large crew, just something manageable, and Sangre Grande wasn't that far. The house was appropriate, so we used his house to film."
Mooleedhar took the liberty to apply his creative license and add a big, tassa wedding scene to the end of the script, even though this was not present in the book's original storyline. However, due to the depleted funds he had to find an alternative. With the final $700, he instructed his wardrobe crew to visit the Divali Nagar and buy the appropriate attire for an Indian wedding. Instead of playing out the festivities of the extravagant wedding scene, the film closed on a post-wedding photo.
"I actually liked the way the film ends on that one little picture. I think being creative actually gave the film its own sense of charm."
Distribute it
Mooleedhar stressed that the choice to self-distribute the film was a conscious decision.
"We got distribution offers. In fact, I would say that it has been a success. However, we just didn't get any deals that worked for us. People feel because you don't have a distribution deal, that maybe you're not successful. The problem about giving up the rights to a distributor is that you no longer have control over your film; it's world territory rights. With that being the case, if you called me right now to play the movie in Trinidad, I would have to ask the distributor's permission to play the film in Trinidad. As an entrepreneur, and a businessman I want to do deals that will make my film win. I can't make a product and give up the rights without being properly remunerated. I rather keep control. Right now we can play the film from anywhere. It's our choice.

We did sign one distributor called Collective Eye.  They handle the educational rights where they sell copies of the film to universities for teaching purposes."
What was the result of this bold move and hard work?
Public Reception – Festivals & Awards
Credit: Green Days Film Limited
After the film's World Premiere at the Trinidad and Tobago Film Festival in 2017, its viewing extended into other parts of the Caribbean such as the Barbados Independent Film Festival, Bahamas International Film Festival and Belize International Film Festival to name a few.
Its reach extended further internationally into the United States at the Washington, DC International Film Festival, Seattle International Film Festival, Pan African Film Festival, and at the European Union (EU) Premiere in Switzerland for the Fribourg International Film Festival. There were also a few screenings in London where a lot of Caribbean audiences attended.
The film has won the Best Trinidad and Tobago Feature Film Award, People's Choice Award in T&T, and The Carmichael Award for Exceptional Storytelling in Barbados. Earlier this year, it was nominated for Outstanding World Cinema Motion Picture for the Black Reel Awards.
The publicity, both on the regional and international scene has also pushed the author, Michael Anthony into the limelight. From attending all the screening events to book-signing ventures, sales on the novel Green Days by the River picked up. The book made a resurgence for people to read.
"I think the film's a great tourism product. When we play it around the world, people want to come to Trinidad and see that landscape. Those who have never heard about our country before say it looks amazing! We're doing our own little job in terms of tourism; getting the word and the brand of the country out there."
Lessons Learned
"The reality is that the business around making local films is not great."
The director indicated that if the public is interested in viewing the production of more local films, then it's essential to support its sales. After all, it's not very often that Trinidad and Tobago can boast of creating an award-winning movie from one of its local books.
"This movie is a million-dollar TT production. If it's not making that money back, then it becomes really hard to go back to the same financers and boast about the success of GDBTR."

"Business people deal with figures. They don't want to hear about your great idea. All they want to hear is how much they're going to spend, and what will be their return on the investment (ROI)."

"You can't tell them their ROI is "building culture."—-They'll just smile and tell you, "Good luck! I'll go see it when it's made!"
In the future, to eliminate risks to the film-maker's reputation; the possibility of a failed production due to insufficient funds; and the stress accompanied with inconsistent pay to his team, Mooleedhar aims to secure total funding first before starting production.
"We have to be more strategic and organized about where we secure funding. We don't want to bite off more than we could chew."
Inspiration
Despite the numerous set-backs, Mooleedhar and his team pushed forward to create this high-quality feature. But success doesn't come without "stepping on a few toes."
"As an artist, be clear about what you want. Deal with people honestly, and be straight-forward. When you're making a movie, do your best to make it "your movie". You can't be nice to everybody; that's part of being a director. Just buy them a beer afterwards."

"The reason I make local film productions is because I want to be operating on a bigger budget. I want to make bigger movies. My game plan is to always have a development plan in mind for T&T and the Caribbean, while working on other films too. Hopefully being in both spaces."
On a more holistic level, Mooleedhar added,
"Enjoy your Life and move at your own speed. I'm trying to reach the furthest I can reach, and better myself."
Co-founder of the clothing brand Addicted to Progress, Mooleedhar abides by this motto of continuous improvement in both his business and lifestyle.
What about you? Are you Addicted to Progress?
The film is currently available for either purchase or rental on Vimeo on Demand and through the website Greendaysbytheriver.com.
Support our local films!
---
---